Ok, thought i'd post some interesting old drums that I own or have owned. If anyone has any vintage drum they would like to add go for it.
First up – A mid 50's Slingerland Drum Company Student Radio King. This is a 14x7" drum which has a 3ply mahogany shell with maple re-rings. Finishes came in lacquer or pearl – this drum has a blue/silver duco finish which is in pretty good shape. 8 sound king lugs (earlier versions have streamline lugs) and is fitted with the 3point snare strainer sometimes called the krupa strainer. Hoops are nickel over brass double flanged straight type with hooks –later drums have the more modern slingerland 'sticksaver' hoops. I dated the drum by the badge which is a black/brass chicago badge. See here for further info
http://www.vintagedrumguide.com/slingerland_badges.html
I got the drum from a friend and he set it up with diplomat snare side head, ambassador coated batter and some puresound wires. It has a nice fat vintage tone with quite a bit of ring which sounds great. Enjoy the pics.
Last edited by Mark [Admin] on Sun Jul 26, 2009 2:08 am; edited 1 time in total
mate that is lovely - i have had the pleasure of viewing this drum in person only i had to rush away because my wife had a car accident (she was fine). Here's some pickies of a very special drum sourced by our own administrator Mark on behalf of my sister who lives in NY who bought it for my birthday...how good is this!..(it's long story). It's a 1930's cloud badge 1 ply maple slingerland radioking. i love love love this drum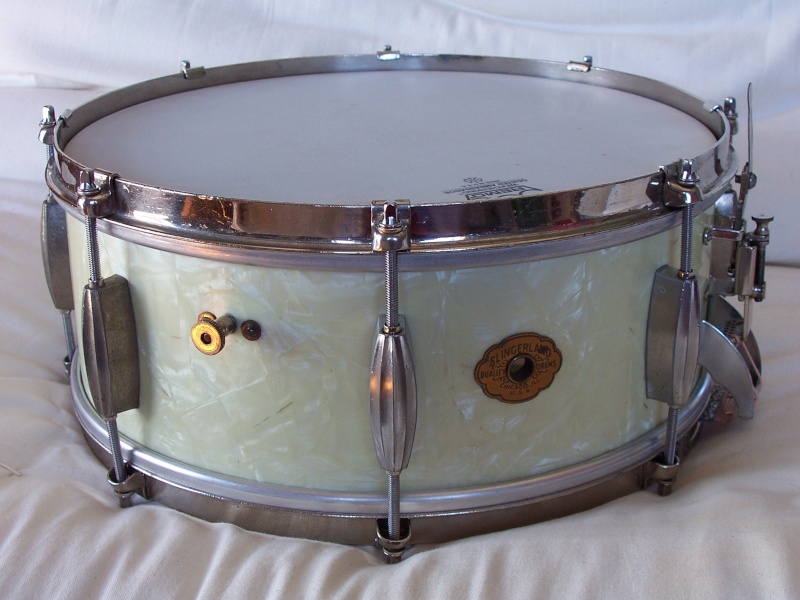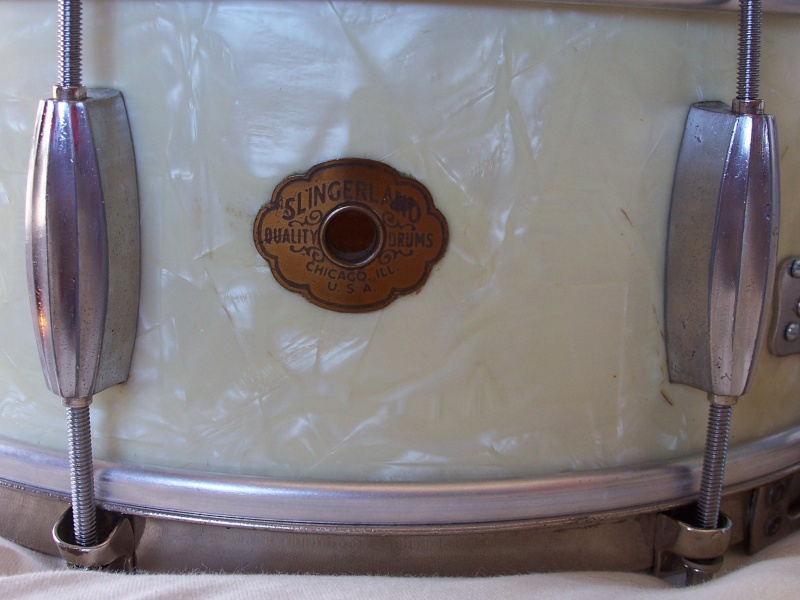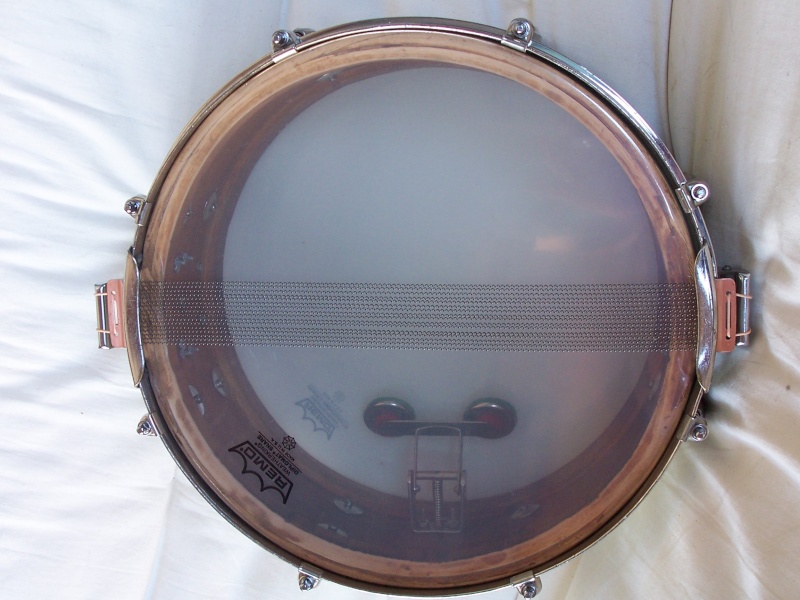 Posts

: 66


Join date

: 2008-04-11


Location

: Mangawhai Heads



Man, that drum looks to be in great condition! I forgot to ask how the roundness is - most radio kings are out a little bit, mines out a couple of millimeters and heads are a bit of a squeeze. You taken it for a spin yet? I was playing my solid shell RK yesterday and marveling at the rim shot sound. Too bad they were so popular with rock players in the 80's who hunted them down, had them re-finished and changed the hardware to more modern versions

Here's my solid shell RK – badge is later 40's version, hoops are engraved stick masher type.

great to see these fantastic examples
wish we had a sound file so we could hear them ,you tube dosent do the vintages justice.



Posts

: 115


Join date

: 2008-06-14


Location

: auckland



very very very nice, would love to hear them, mark send me one of your's and i'll send it back, promise




Posts

: 10


Join date

: 2008-07-23


Age

: 42


Location

: wanaka



I think if you played it - you wouldn't send it back!
Here's one I got just this week. 67 Artist model in Black Diamond Pearl with Zoomatic strainer. Could be for sale if anyone is interested.

that looks amazing



Posts

: 200


Join date

: 2008-06-02


Age

: 31


Location

: West Auckland



Posting this for Bruce – 1964/5 slingerland red ripple (rare colour. only in range for 1 year)
wow those are amzing - i think i saw those in bruces' garage a while ago. That might even be a slingerland straight stand that he got from me?

Mark as per your earlier question re the roundness of my RK 1 pyl shell - it's hard to tell without putting it on a lathe or something but it looks pretty 'in round' - i'm sure it's not 100% but it sounds terrific! it's the only slingerland drum i own. M



Posts

: 66


Join date

: 2008-04-11


Location

: Mangawhai Heads





Similar topics
---
Permissions in this forum:
You
cannot
reply to topics in this forum